Brooke Lewis Bellas is the Front Cover of FilmmakerLife Magazine, October Edition 2021.
Brooke, thank you for granting this interview and sincere congratulations on your Outstanding Journey as an Actress and Filmmaker.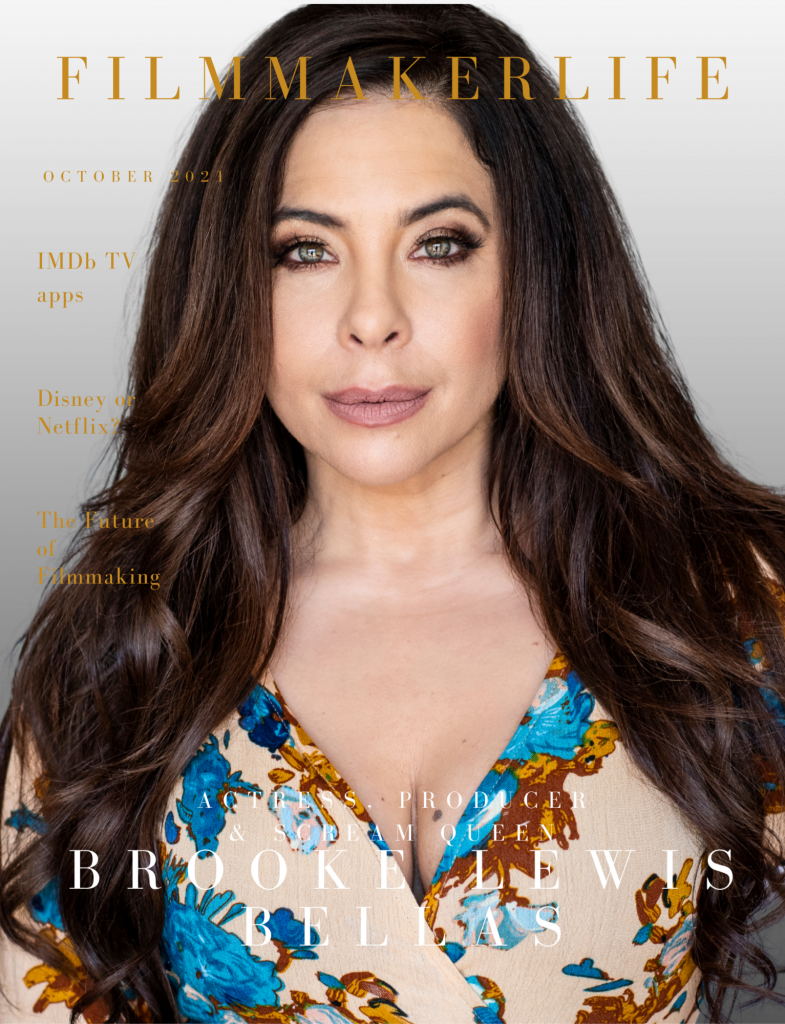 You produced and played (Millie Lane) in the film 'Allen + Millie: A Short Romance' that has been awarded as the "Best Acting Duo" at the Mykonos International Film Festival 2021. What can you share with your audience?
'Allen + Millie: A Short Romance' was a gift from the short film Universe! I had been wanting to work with director Markus Redmond, as he and I share an affinity for classic black and white films from the style of filmmaking legends like Billy Wilder. He sent me the script and I fell in love with the role of Millie Lane, a "B-movie starlet" from the 1930s. I was inspired to make this "picture", and it all fell into place! Once I got one of my favorite actors and dearest friends, Courtney Gains, to sign on to play Allen, I was vamped out! And, for all the loyal horror fans, I was even granted legal permission to use a footage clip from another one of my favorite directors to work with, Greg Lamberson's, 'Slime City Massacre', in which I acted and co-produced, many years ago! There is something very touching within this script, and it has become a "fan favorite" on the festival circuit. The audience and filmmakers alike, seem to relate to the storyline: "Screenwriter, Allen Mitchell, has just accepted that his life will never turn out like he planned. His only solace from this cruel realization? An afternoon at the movies to watch his favorite starlet, Millie Lane. Of course, Millie Lane is a long-forgotten film star from the 1930s, but that doesn't stop her from being Allen's one obsession, her old movies being the only thing in this world that he can truly count on." As an actress, producer, and creative, these are often themes in my life and I believe that so many creatives can feel this longing and pain that is handled with comedic care in this piece. Speaking of themes, I feel so blessed that the Mykonos International Film Festival welcomed us into their Greek Film Family and honored Courtney and I with "Best Acting Duo" in 2021. I am not only moved by the acknowledgement of our acting work, but by the themes behind our stunning Trophy. The "Angelos" Trophy has such powerful meaning behind it, as a Messenger… Warrior… Angel… to remind me that "Achievements and Victory" come to those who work hard for it! Congrats to all the filmmakers reading 'Filmmaker Life Magazine' who continue to work hard and dream big!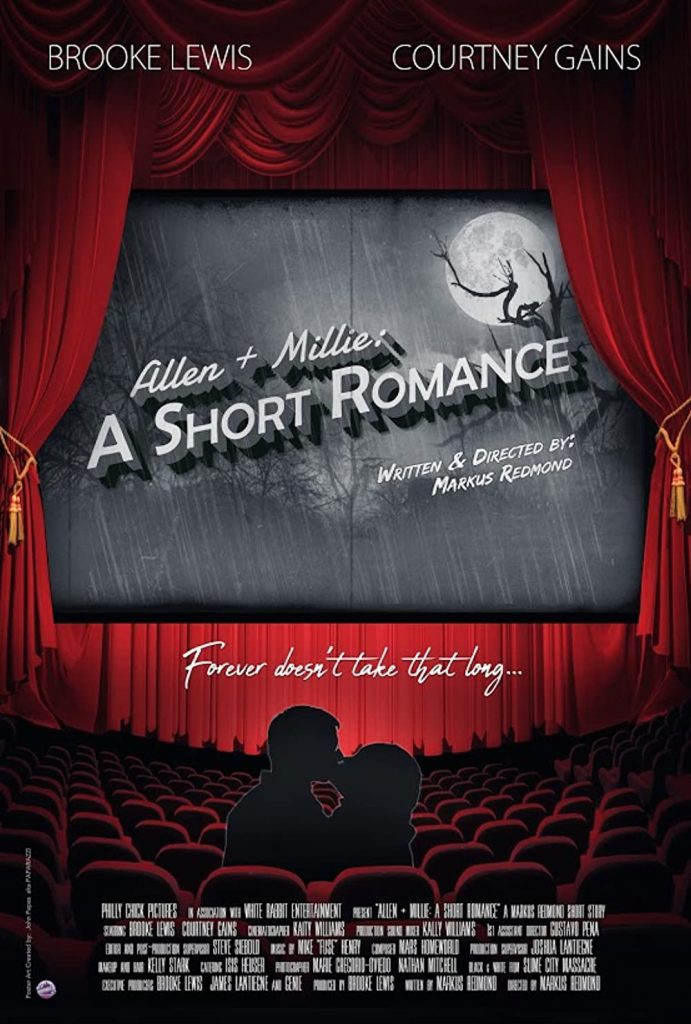 What influenced you to pursue a career as an actress and a producer?
Even as a very young girl, growing up in Philadelphia, I had this intense affinity for Old Hollywood. My forever idols, Elizabeth Taylor and Mae West, influenced my career, as powerful women who changed the face of the Hollywood entertainment industry. Even then, when it was a Boys' Club at its best, they had the strength, courage, and tenacity to fight through it and create iconic careers for themselves. I, too, had ambitious dreams and imagined that one day I would live and work as an actress in New York City and Hollywood. I was a very emotional child, and I knew I was destined to do something creative and expressive. Like many actors who have dealt with challenges in their childhood, I had a void to fill. I would, literally, sit in front of the television watching for hours, and I would put myself into the TV series and talk to the characters, as if I were one of them. I began my professional union theatre career in Philly, signed with an agent in New York City, then moved right to NYC and booked my first "break" playing Donna Marsala in the Actors' Equity Off-Broadway hit comedy 'Tony n' Tina's Wedding'. I made my living acting in NYC before heading to Hollywood, where I launched Philly Chick Pictures in 2002 to create more film opportunities for myself as an actress.
As an actress, what techniques do you use to create a believable character?
As an actress and human being, I am someone who always wants to learn, grow, and be and do better! I am such a student of life, and a huge proponent of studying and learning. For me to create a believable character, I study real life and real people. I am not an actress who was fortunate (or, talented) enough to attend Juilliard or the London Academy, so I took every quality class I could find, using techniques from Meisner to Strasberg. When I booked 'Tony n' Tina's Wedding', I was referred to the incomparable Anthony Abeson who taught me so much of what I needed to learn and grow as an actress, using a lot of sensory work and the magic "As if", etc… When I arrived in Hollywood, I was referred to another veteran great… Tim Phillips. I studied with Tim who taught me his incredible Sherlock Holmesing Method. I learned his technique to crack the detective work in breaking down the words on the page and seeing them as clear "pictures". In sharing openly with your readers, I still second-guess my acting choices and get stuck in my head… even after 20+ years! We are human…
When did you become a horror fan and how did it shape your acting and producing career?
I loved the fear, then… being fearless! I have been very intuitive and sensitive to energy, since childhood, so I was drawn toward a sixth sense, which made me fall in love with horror. I grew up watching the "old school horror greats," like the "original" 'Friday the 13th' and 'Halloween' marathons on TV. I would invite my girlfriends over to have VHS horror "binge" parties, renting everything from 'Prom Night' to 'An American Werewolf in London'. As an actress, I had such an unusual career trajectory! I started my professional career performing in regional Actors' Equity Association union musical theater. Then, I graduated to 'Tony n' Tina's Wedding' Off-Broadway. Never in my wildest dreams, did I think I would one day become known as a "Scream Queen"! When I acted in, and was one of the executive producers on, SHOWTIME's 'Kinky Killers', it opened an incredible door for me. I suddenly had the title "Scream Queen" bestowed upon me and I embraced every moment of it! To me, "A Scream Queen is a sexy, powerful actress in horror films or television." I began to empower myself as an actress and producer in Hollywood by building a career on this title and producing films in the horror, thriller genres with powerful, strong, "imperfect" roles for me to "sink my fangs" into! It has been empowering to create and act in roles, such as the "killer", "detective", "psychiatrist", etc… that mainstream film and TV may not have cast me in! Most importantly, I LOVE how the horror genre embraces WOMEN of all body types, ages, ethnicities… offers strong roles for women… and, has the most loyal and supportive fans in the world!!!
You were recently honored in the '1000 Women In Horror, 1895-2018' best-selling book, please share with us?
I was recently honored in a very special historical commemorative coffee table book, '1000 Women In Horror, 1985-2018' from author Alexandra Heller-Nicholas, who describes this piece as a "Love Letter… Blowing a kiss back through time and space". This was an unbelievable "Horror Homage" that positioned some of my favorite female film associates and I next to icons from Hollywood mainstream movies, including some of my idols Elizabeth Taylor, Joan Collins, Karen Black, and Elvira! I "Scream Queens" scream just thinking about this!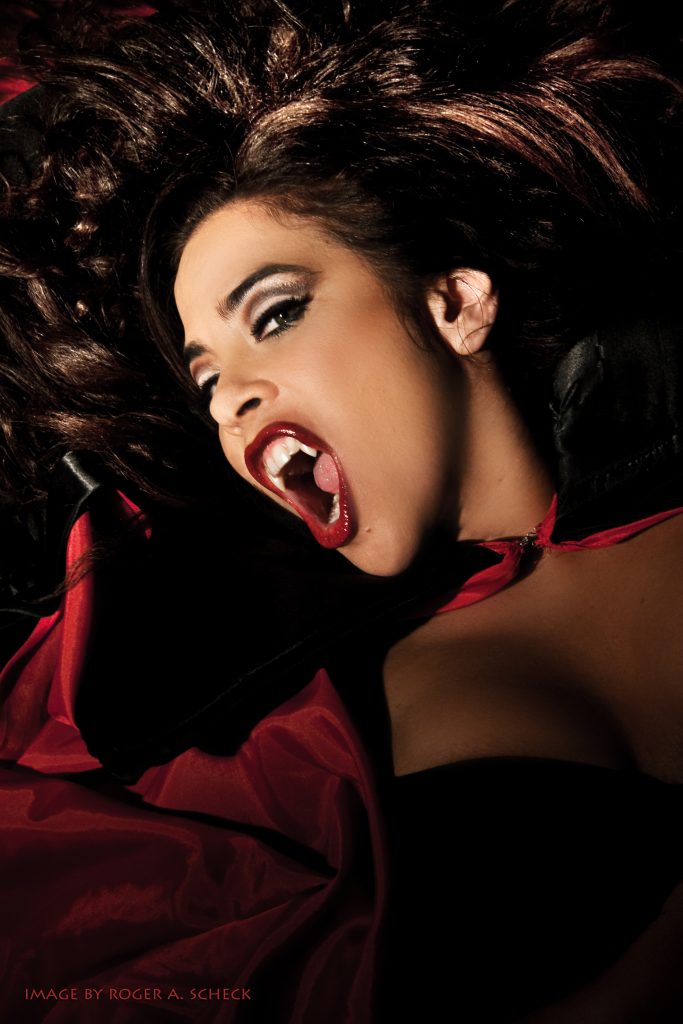 You were inducted into the Phillytainment 'Celebrity Hall Of Fame' 2021, alongside other celebrities. Please tell us about this important recognition?
In 2021, I was inducted into the Phillytainment 'PA Celebrity Hall Of Fame'. I had been a fan of this Philly fabulous entertainment site. When the editors reached out to tell me that I had been added to the list of Philadelphia "celebrities" to be inducted into the 'Phillytainment PA Celebrity Hall Of Fame', I was overwhelmed with honor and gratitude! I would be added, alongside Philadelphia natives, including Will Smith, Richard Gere, Grace Kelly, Tina Fey, M. Knight Shyamalan, Kevin Bacon, Bradley Cooper, Kevin Hart, and more. Honestly, I cried, and I do believe many creatives will empathize with my feelings… unless you reach A-list stardom in Hollywood, we are often not acknowledged for our career, craft, and blood, sweat, and tears we put into our passions and dreams throughout a lifetime.
Finally, what is one message you would share with your fans or audience?
My message is to inspire actors and filmmakers in some way, by sharing advice from my experiences and mistakes I have made throughout my journey: There are NO guarantees in life or this business! We can plan, study, prepare, create, and there are still NO guarantees! I am such a workaholic and planner in my life and career, and nothing has worked out EXACTLY as I had imagined or planned, so I wish I could go back and teach myself how to TRUST THE PROCESS more. I wish I would have taken things (and rejections!) a bit less seriously and had more fun with auditions and my career. I am diligently working on this in my adult life and career now. I must share with your actor readers that when I became a producer years ago, I learned such beneficial lessons, including the fact that you can be the most talented actor in the room… you can give an Oscar-winning audition performance… and you may not book the role! I have sat on the producer side many times and watched the most brilliant actors lose a role due to hair color, height, or an actress reminded the director of his ex-wife! If I knew then…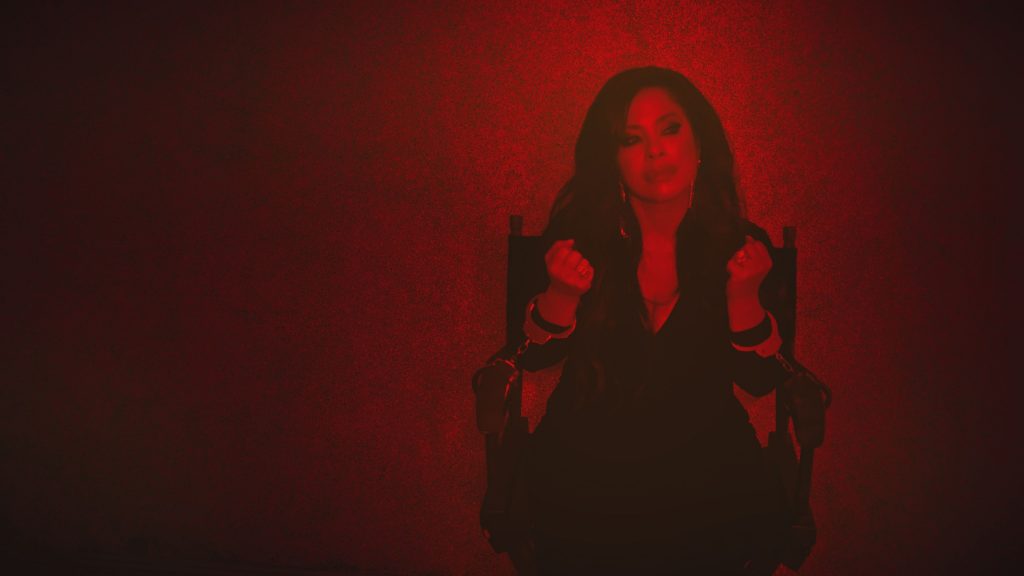 DREAM BIG…OPA!!! XO Brooke Lewis Bellas
Connect with Brooke Lewis Bellas
https://www.facebook.com/BrookeLewisLA
https://www.instagram.com/brookelewisla/